Top award for Emilia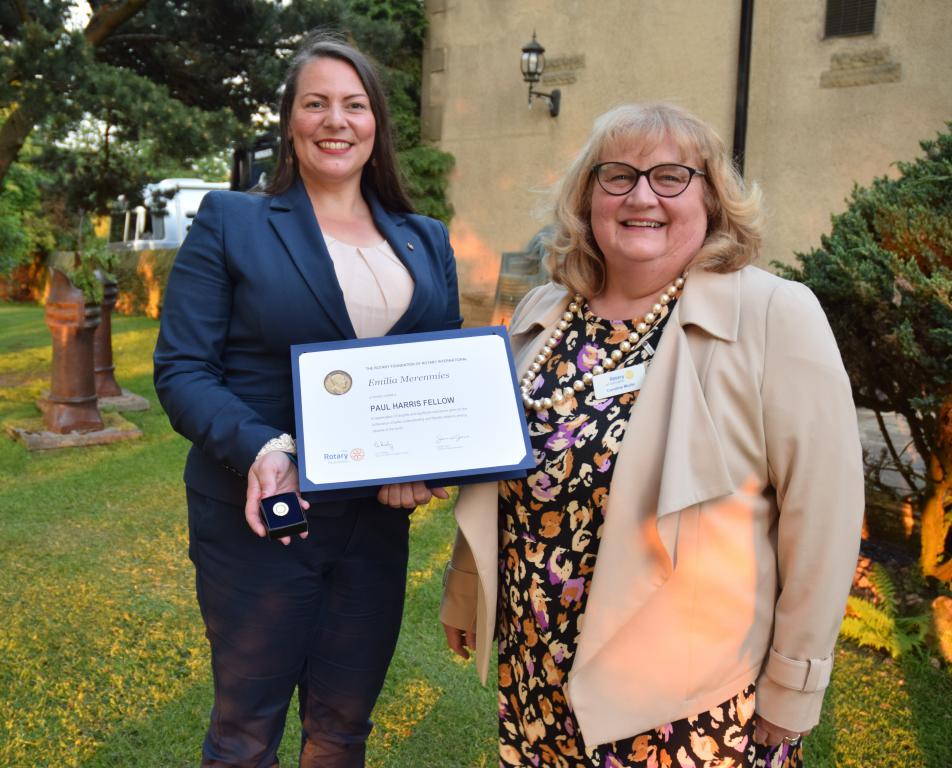 The Rotary Club of Haworth & Worth Valley's newest member, Emilia Merenmies, has been honoured with the highest award the Rotary movement in Great Britain and Ireland can bestow, a Paul Harris Fellowship.
Emilia, who joined the Worth Valley club in 2022, was presented with her Fellowship last Tuesday evening by Caroline Murie, the Assistant District Governor responsible for the Rotary Clubs in the Bradford, Keighley and Bingley Area.
Her award was sponsored by Bradford's newest Rotary venture, the web-based Adventurers Club, in conjunction with the Haworth & Worth Valley Club.
A native of Finland, Emilia made an immediate impact on the way in which Rotary Clubs not only in this part of Yorkshire but regionally and nationally delivered their aid to the people of war-torn Ukraine and the thousands of refugees.
As well as playing a major role in delivering the Haworth & Worth Valley Club's aid programme for Ukrainian mothers and babies, Emilia has made numerous trips to the Ukraine delivering aid. She established contact with the Rotary movement in Ukraine so that assistance could be delivered in a more focussed manner.
Her contribution to the aid effort has been reinforced by her willingness to travel many miles to Rotary Clubs around Yorkshire and North Lincolnshire outlining her experiences and seeking their support for the movement's aid effort. At the same time, she has been recruited to work to the Rotary International Great Britain & Ireland Ukraine Crisis Taskforce.
International Affairs Professional Emilia, together with Skipton Craven Rotary Club member John Midgely, have also established a new charity FAST (Fast Aid Support and Transport) for delivering yet more aid to the suffering people of the Ukraine.
Assistant Governor Caroline Murie said: "Emilia has made a fantastic contribution to Rotary's appreciation of the situation in Ukraine and how our aid efforts have been delivered.
"By awarding this Paul Harris Fellowship we want to recognise her fantastic contribution to Rotary's effort to provide vital assistance to the Ukraine and to make clear our appreciation of her dedication and hard work on behalf of the Ukrainians."
After the presentation Emilia said: "This award has come as a total surprise. It's a real honour and I'd like to thank the Adventurers Club for nominating me."
Donations for Emilia's charity can be made by following this link: https://www.justgiving.com/crowdfunding/fastaidsupporttransport
Pictured: Emilia Merenmies (pictured left) after receiving her Paul Harris Fellowship from Assistant District Governor Caroline Murie at Newsholme Manor, Oakworth on Tuesday evening.