Join our Santa Fun Run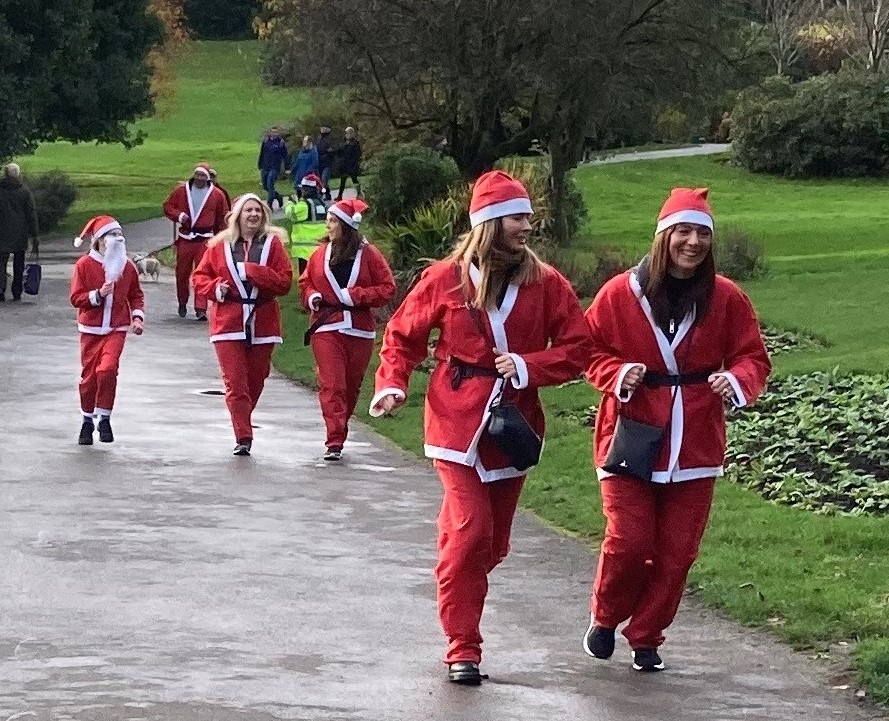 We're so pleased that you'd like to take part in our 'Santa Fun Run'. It's the second time that the Rotary Club of Haworth & Worth Valley has ever staged such an event and we hope you'll decide to enter.
This event is part of the 'Christmas in Haworth' programme and involves running through the village and then eight laps round the footpaths of Haworth Central Park on Sunday, December 3rd.
And the Fun run is open to men, women, and children six years old and over. All are welcome to join in the fun. To make sure of your scroll go to the bottom of this page and complete the registration form.
Date: Sunday, December 3rd
Reception opens: 10:00 AM
Fun run starts: 11:00 AM

Where: Main Street & Haworth Central Park
Distance: Up to 5k
This year we given the course a new look because this year the run will start at the top of Main Street near the steps up to Haworth Church.
The runners will then descend the village's famous setted Main Street, then turn up Rawdon Road as far as the zebra crossing opposite Butt Lane and, once over the crossing, enter Central Park.
After entering the park they will pick up the footpaths and complete eight laps finishing close to Haworth Bowling Club. And, as in 2022, we are delighted to confirm the members of Bowling Club are supporting the event by serving refreshments.
We are hoping that when you take part in the 'Santa Fun Run' that you'll check round your family, friends and colleagues and earn sponsorship for every lap you complete! And, if you make it round the full eight-lap course you'll have covered five kilometres!
The sponsorship is being directed to the Rotary Club's Charitable Trust Fund in aid of our Community Grant Scheme. This ran very successfully for the first time in 2020 when we were able to distribute £2,000 in grants to those small organisations in the Worth Valley that make such a big difference to our lives.
And in this year's round of grants we were able to bump up the amount of money we were able give in grants to £2,500 thanks largely to the success of our first ever Santa Fun Run in 2022!
We'd like to make grants to even more organisations when we undertake pour next round of Community Grants – please note we don't accept applications from individuals – and that's why we're hoping you'll help us by raising money from your sponsors.
Also registering to take part in the Fun Run is easy too. Simply go down this page page to the 'Santa Run Ticket' button and follow the link.
If you don't own a Santa suit then the Rotary Club of Haworth & Worth Valley has some for sale and full details of what we have to offer can be found lower down this page.
You can also download a form with which to collect sponsors and check out the full terms and conditions by clicking on the links below.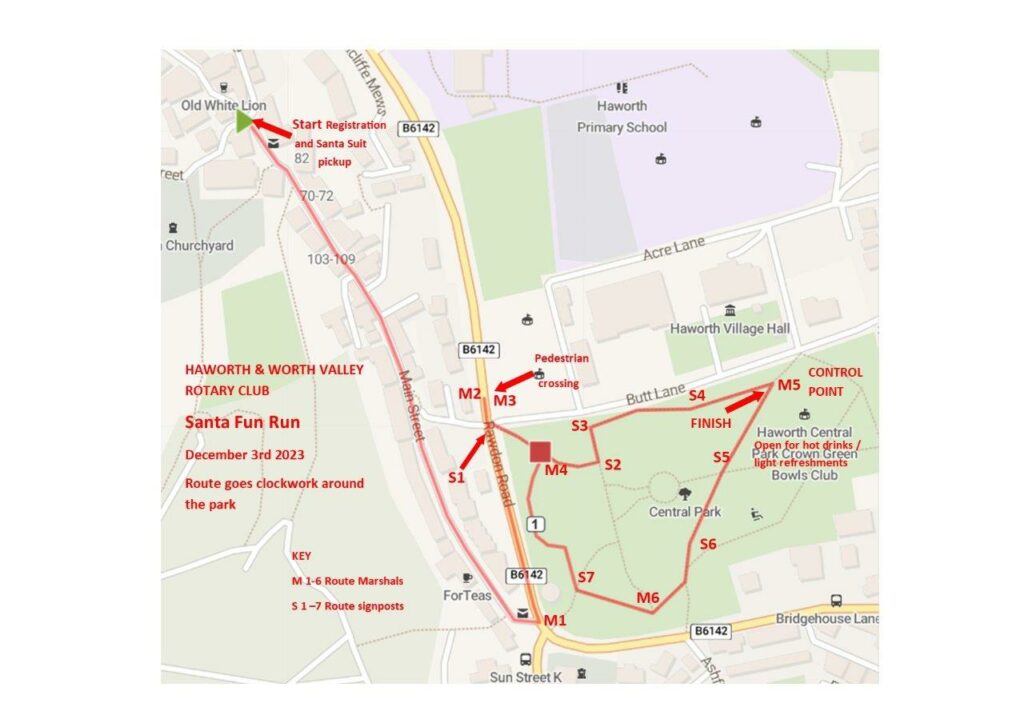 And don't worry if you can't complete eight laps of Haworth Park. If your sponsors will back you for every lap you do that will be fantastic! Sponsorship forms are downloadable below or, alternately, printed forms are available from Wave of Nostalgia, 74 Main Street Haworth, Keighley, BD22 8DP.
So come and join in a special event in Haworth's Christmas offering. You can have a great time and help us to help other organisations at the same time.
Parking
Please use the public car parks where possible; it is recommended to allow three hours for completion of the run including time for check/registration, a hot drink, light refreshment at the end and return to your vehicle
Central Car Park
Museum Car Park (near the Parsonage Museum)
After parking make your way to the registration/ check-in desk by the Kings Arms pub at the top of Main Street.
Registration / Check in
Please note that this year's event starts by the Kings Arms public house at the top of Main Street in front of the former Tourist Information building.
The check in desk adjacent to the start line will be open from 10:00 where you will need to have your proof of registration to hand. Santa suits will be handed out to people who have pre-ordered these along with a numbered wrist band. You will also need to sign that you have read and agree to the Terms and Conditions.
The Run
The average time for a five kilometre run is 30-45 minutes but given the route contains inclines and young children may be running, we are allowing an hour to 90 minutes to complete the run. Please note that this is a fun run and not a race – and there are no prizes for recording a fast time.
The run starts at 11:00 by the Kings Arms public house in front of the former tourist information office building and is completed by running eight laps of a clockwise route around Central Park, finishing close by the Haworth Bowling Club Pavilion – see the map on this page.
The route takes you all the way down Main Street, until it reaches Rawdon Road, where it takes a sharp left turn and follows the pavement up the western side of Rawdon Road until it reaches the pedestrian crossing at the Butt Lane junction.
The crossing itself will be manned by route Marshals (wearing high viz vests) to ensure safe crossing over Rawdon Road, so its important to follow their instructions.
The route then crosses over Butt Lane and into Central Park where you continue your run.
The route will be signposted and marshalled until 12: 30hrs which should allow ample time for most people complete the route.
On completion of your run please make your way to the Central Control desk to sign off and receive your completion certificate, and ready-to-use Sponsorship Forms (these will provide you with instructions as to how to make your sponsorship payments once collected).
Please take advantage of the hot drinks/ light refreshments available from the Haworth Bowling Club Pavilion.
Sponsorship
We encourage runners to gain sponsorship from work colleagues, friends, and family. You can either ask for a single donation to cover your run, or encourage them to sponsor you based on the number of laps you complete. You will be credited with 10 laps if you complete the five kilometres. As an example, asking five people to sponsor you for just £1/lap will yield a total of £25 if they complete the course.
Health & Safety
Please ensure that you are appropriately dressed for the occasion and wear sensible footwear to cope with the cobbled Main Street and possibly slippery footpaths en-route and in the park itself. The paths in the park will be inspected and swept of any debris before the event.
The route will be marshalled and signposted throughout and there will be first aiders on hand to deal with minor injuries.
In the event of an incident please go immediately to one of the marshals (who will be wearing high viz vests) and they will summon the appropriate help.
Toilets
The park toilets (located at the top end of the park next to the Bridgehouse Lane, Sun Street, Rawdon Road junction will be available for use).
This event is open to runners (and walkers) of all abilities so please come and join in the fun on December 3rd!
---
To enter, add your tickets(s) and optional clothes using the options below: